Stadium Thriftway
Recipes
https://www.stadiumthriftway.com/Recipes/Detail/7881/Pork_Sliders_with_Berry_Jam_and_Goat_Cheese_Butter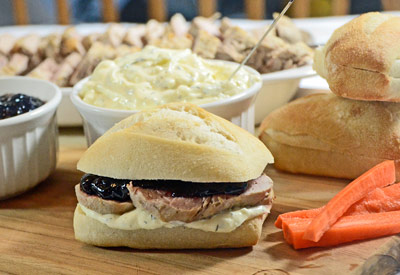 Pork Sliders with Berry Jam and Goat Cheese Butter
Yield: 16 sliders
Directions:
Pork Tenderloin:
Preheat oven to 400 degrees F

Line a baking sheet with foil.

Season tenderloins with salt and pepper and rub into the meat.

Heat oil in 12-inch skillet over medium-high heat. Place tenderloins in skiilet and cook for 3 minutes, turning and cooking another 1 to 2 minutes and continue until are sides are browned.
Transfer tenderloins to baking sheet and place in the oven.

Roast until tenderloins reach 145 degrees F, about 12 to 18 minutes.

Transfer tenderloins to a cutting board and loosely tent with foil; let rest for 10 minutes.

Slice tenderloins crosswise into 1/2-inch thick slices. Arrange on serving platter.

Goat Cheese Butter:
Place softened goat cheese and butter on a cutting board. Smash together with a large fork. Sprinkle dried thyme over the blended butter and continue to blend together. Place in a small serving bowl.

To assemble:
Spread bottom half of roll with goat cheese butter. Top with 1 or 2 slices of tenderloin. Slather on some berry jam and add the slider topper.


Recipe, food styling and photo by Webstop
Please note that some ingredients and brands may not be available in every store.
Stadium Thriftway
Recipes
https://www.stadiumthriftway.com/Recipes/Detail/7881/